Rapid takes active measures to prevent COVID-19
2020/05/27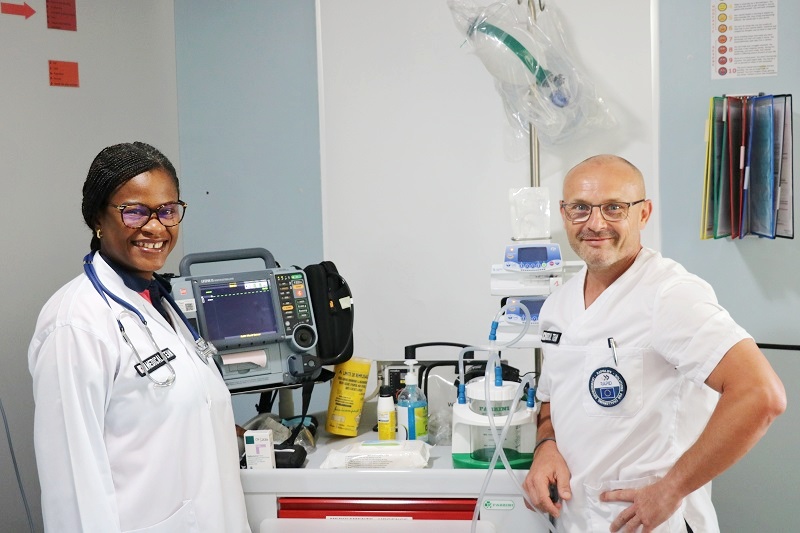 Handling viral outbreak in the developing world
Even as COVID-19 infection rates begin to slow down in some parts of the world, the crisis may just be getting started elsewhere in countries like Somalia, where Aden's subsidiary Rapid operates the EU Diplomatic Compound. Lack of critical infrastructure, health workers, and viable methods of tracing and containing the virus put areas like these at high risk of an infectious outbreak. 
Despite these challenges, the response by Rapid has proven to be a successful model by directing all efforts into protecting compound residents from infection.
Ahead of the curve
Anticipation has been the key to success. By leveraging a global network that spans across Europe and Asia, Rapid acted decisively, without waiting for the first confirmed case of infection in Somalia. This allowed the compound to reorganize and ensure maximum preparedness. Early vigilance meant that when lockdown inevitably came, Rapid had already gathered an expanded stock of supplies such as water, masks, and medicine, and was prepared to implement safety protocols following three guiding principles: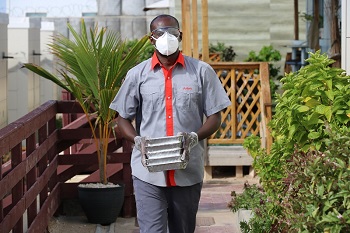 -> Protect:
Distribute masks to personnel.
Install hand sanitizer dispensers and washbasins throughout the compound.
Utilize chlorinated water sprayers at points of entry.
-> Prevent:
Enforce social distancing, mandatory mask and glove wearing.
Disinfect all goods on delivery.
Quarantine and monitor clients and staff returning from rotation.
-> Inform:
Hold regular meetings with compound residents for updates on the situation in the country, region, and around the globe.
Assemble a committee off all the site's managers to share experiences and feedback from staff.
By acting early, the compound does not have to worry about flattening the curve; they have avoided it altogether.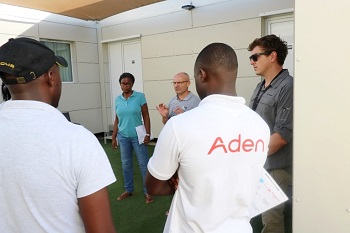 Local response, global network
The effort made by Rapid's on-site staff has been a major success, but it relied upon the support of a dedicated team of people around the world. As a joint venture between Aden and Losberger de Boer, Rapid is connected to countries in every major continent, which allowed for strong information-sharing networks and a quick response to source solutions. 
A proven track record of health crisis management
The global COVID-19 outbreak is not the first pandemic to put Aden to the test. Aden and partners were on the scene in Wuhan—the epicenter of the current crisis—by developing, constructing, and maintaining the emergency hospital created to take inpatient overflow, and by robustly supporting our clients in Hubei whose facilities were hit or at risk of being infected by the virus. 
In 2013, Aden was on the frontlines of the Ebola crisis in West Africa, where we mobilized our experts in technology and facility planning to conceptualize an innovative series of WHO-standard Ebola Care Units and field hospitals specifically designed for the Western and Central African region. 
During the 2002 SARS outbreak, Aden was on the ground in Asia keeping facilities running, maintaining operational continuity and working hard to get affected regions back on their feet. 
All of these past successes were an invaluable resource for Rapid when preparing to face this pandemic, and so far our response is working—there are no cases of infection on-site to date. 
The compound continues to put all their effort into its mission to protect, prevent, and inform, to provide a safe and hygienic environment for EU diplomatic residents, and to be a proud example of success in Somalia's fight against COVID-19.